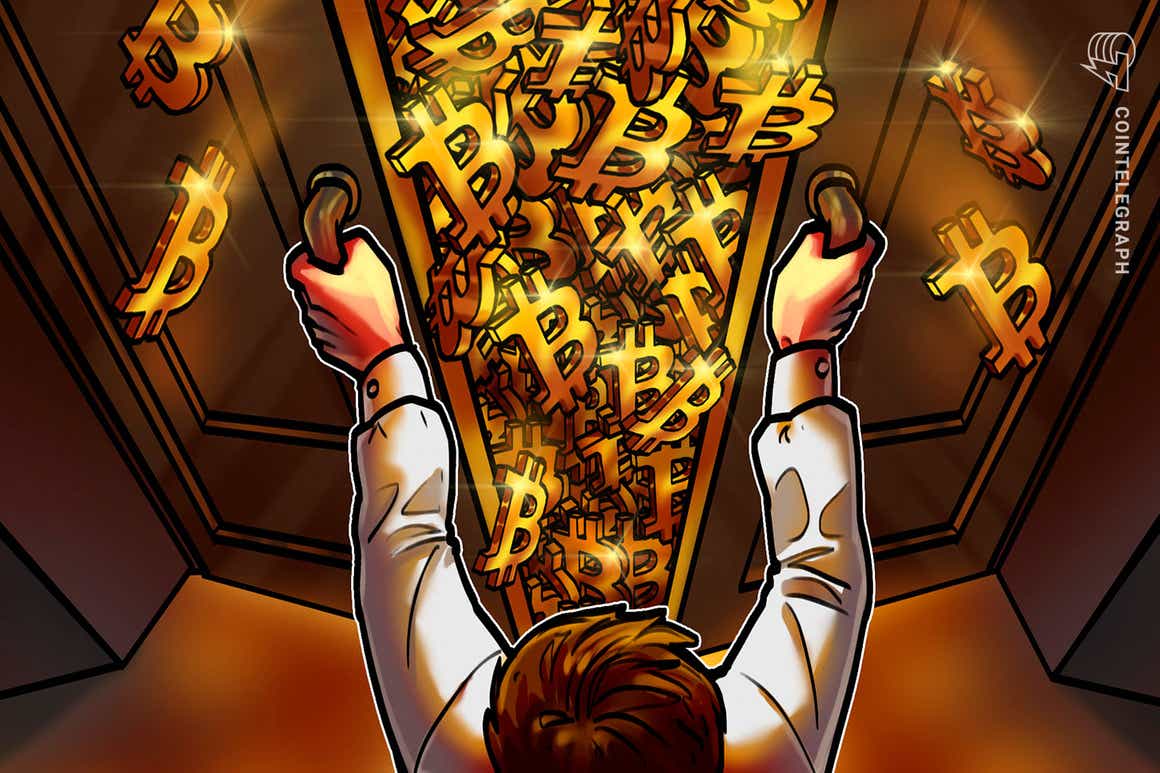 Institutional investors are returning to accumulate Grayscale Bitcoin Trust (GBTC) shares as the discount to spot price his risen to nearly 30%, data on Glassnode shows.
Since December 2021, some weekly sessions saw investors pouring in between $10 million and $120 million into Grayscale's flagship fund. Meanwhile, the biggest capital inflow — amounting to nearly $140 million — appeared in the week ending on Feb. 25, as shown in the chart below.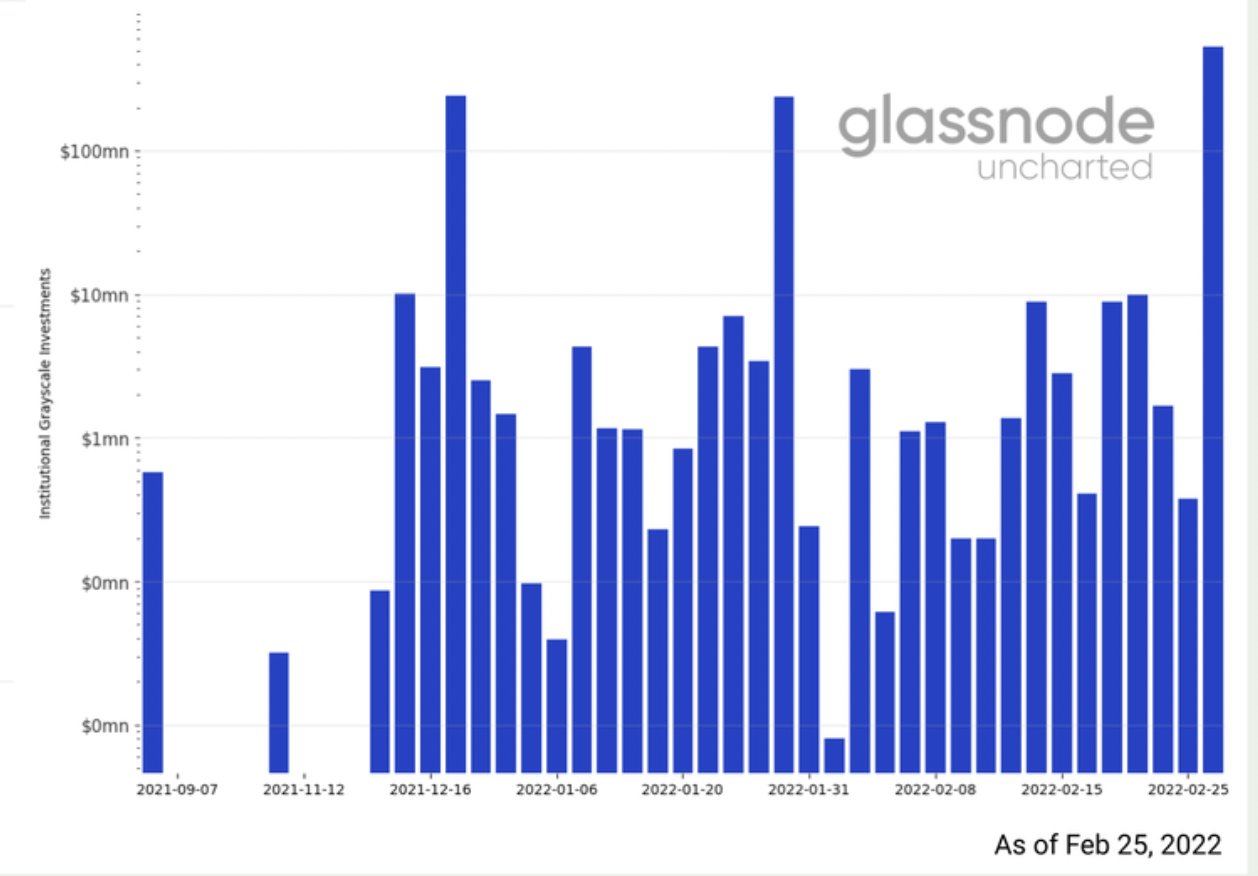 Institutional Grayscale Investments since September 2021. Source: Glassnode
No selloff yet among high-profile GBTC backers
The GBTC trust attracted investments as global markets faced back-to-back shocks in the past few months, including a dramatic selloff in the technology stocks, followed by Russia's invasion of Ukraine that left many fund managers with a double-digit percentage loss.
For instance, Cathie Wood's ARK Next Generation ETF (ARKW), which holds $478 million worth of GBTC, crashed by nearly 45% year-over-year, primarily owing to its exposure in the sectors that suffered the most during the recent market turbulence, including technology (43.14%) and communication (27.99%).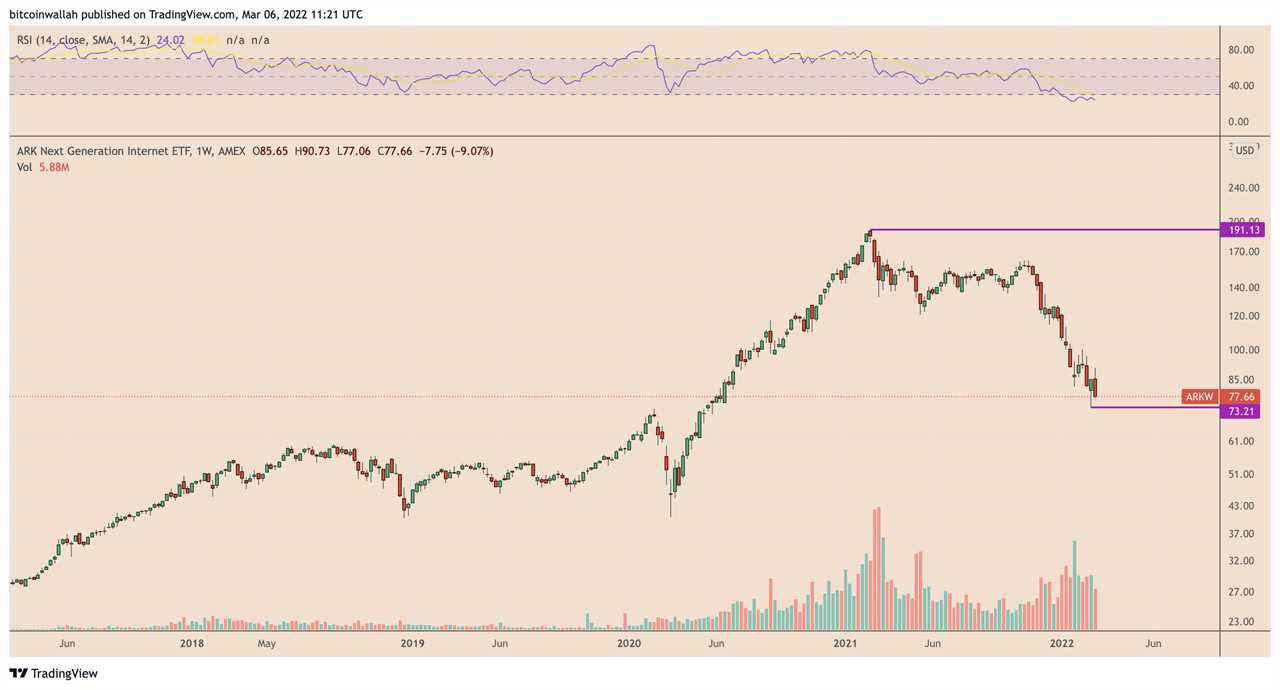 ARKW weekly price chart. Source: TradingView
But in November 2021, ARKW added over 450,000 GBTC shares to its portfolio, when their discounts were as steep as nearly 17.5%.
Similarly, the Morgan Stanley Insight Fund (CPODX) held over 1.5 million GBTC as of Sep. 30, 2021, according to its securities filings with the U.S. Securities and Exchange Commission (SEC). Its year-over-year performance as of March 6, 2022, came to be around minus 43%.
Both ARKW and CPODX underperformed as GBTC fell by 43% in the past 12 months. Nonetheless, neither ARKW nor CPODX reported selling significant shares of GBTC.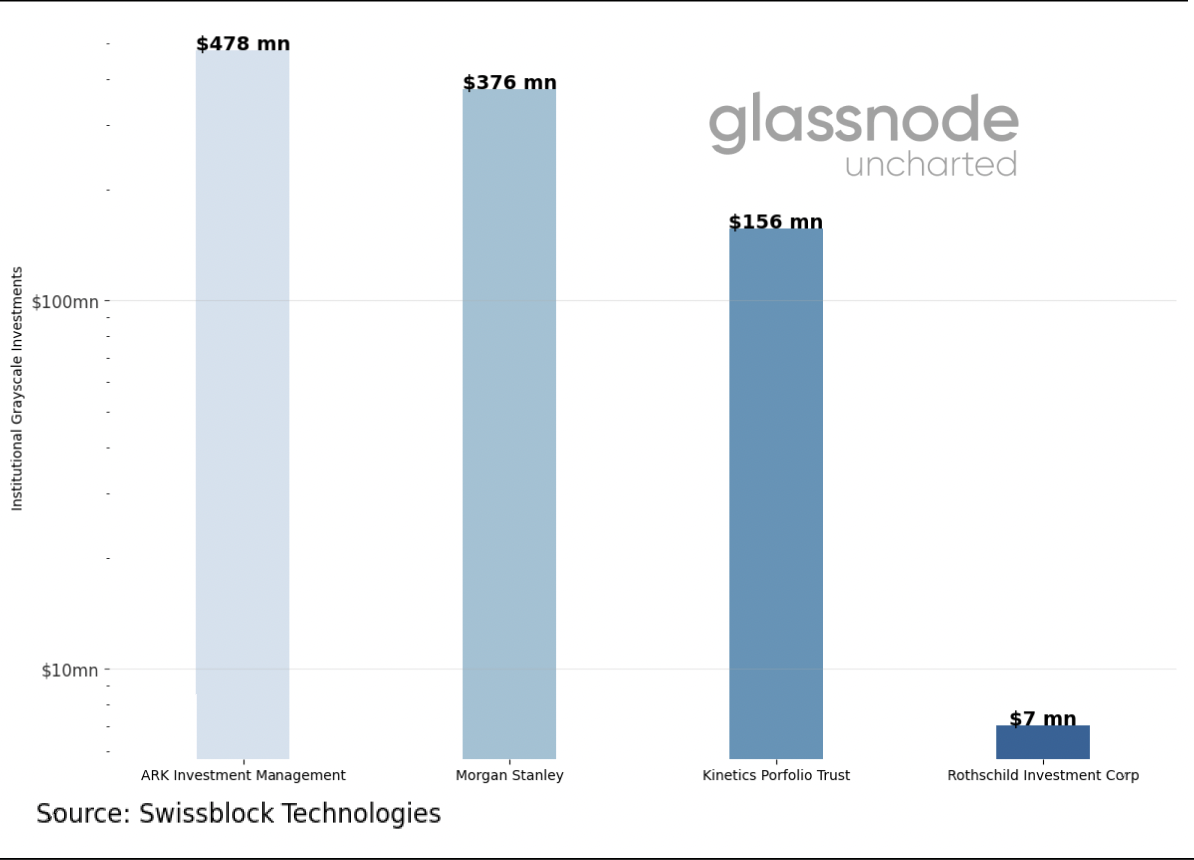 Institutional Grayscale Investments. Source: Swissblock Technologies, Glassnode
ETF hype?
Many factors attribute to GBTC's underperformance, including rising competition from exchange-traded funds (ETF) in Canada. Unlike GBTC, ETFs allow investors for Share Redemptions, a process through which a fund can destroy shares based on demand-supply dynamics.
Digital Currency Group, Grayscale's parent company, has attempted to reduce the discount by buying back GBTC shares. But its efforts have been mired further by the launch of ProShares Bitcoin Strategy ETF (BITO), which holds futures contracts. This has ended up dislocating GBTC's price further away from Bitcoin's spot price.

Grayscale Bitcoin Trust's discount/premium to net asset value. Source: YCharts
Now, Grayscale has been working on a discount killer switch, through its attempts to convert GBTC from a trust fund to an ETF tied to Bitcoin's price. If the SEC approves Grayscale's application, it would prompt the GBTC discount to reset from its current discount levels to zero.
Nonetheless, the SEC has not approved a single spot Bitcoin ETF application citing risks relates to price manipulation. In comparison, regulators in Canada and Europe have been more welcoming to physical Bitcoin-backed investment products.
Investment management firm Investor Trip asserted that the SEC would eventually approve the spot ETF "due to pressure from 3rd party supporters."
Related: Grayscale launches campaign to encourage public comments on Bitcoin ETF application
"If approved, Grayscale will convert the trust into a Spot ETF and the discount opportunity will no longer exist," it wrote in its analysis published Feb. 14.
Conversely, analysts at Conservative Income Portfolio called GBTC an investment that is "destined for zero," noting that its discount of net-asset-value of Bitcoin "is not really relevant."
"It might be relevant from a shorter term bounce perspective as a measure of sentiment."
com. Every investment and trading move involves risk, you should conduct your own research when making a decision.
com. Every investment and trading move involves risk, you should conduct your own research when making a decision.
Title: Institutions increase exposure to Grayscale Bitcoin Trust as GBTC discount nears 30%
Sourced From: cointelegraph.com/news/institutions-increase-exposure-to-grayscale-bitcoin-trust-as-gbtc-discount-nears-30
Published Date: Sun, 06 Mar 2022 13:02:50 +0000