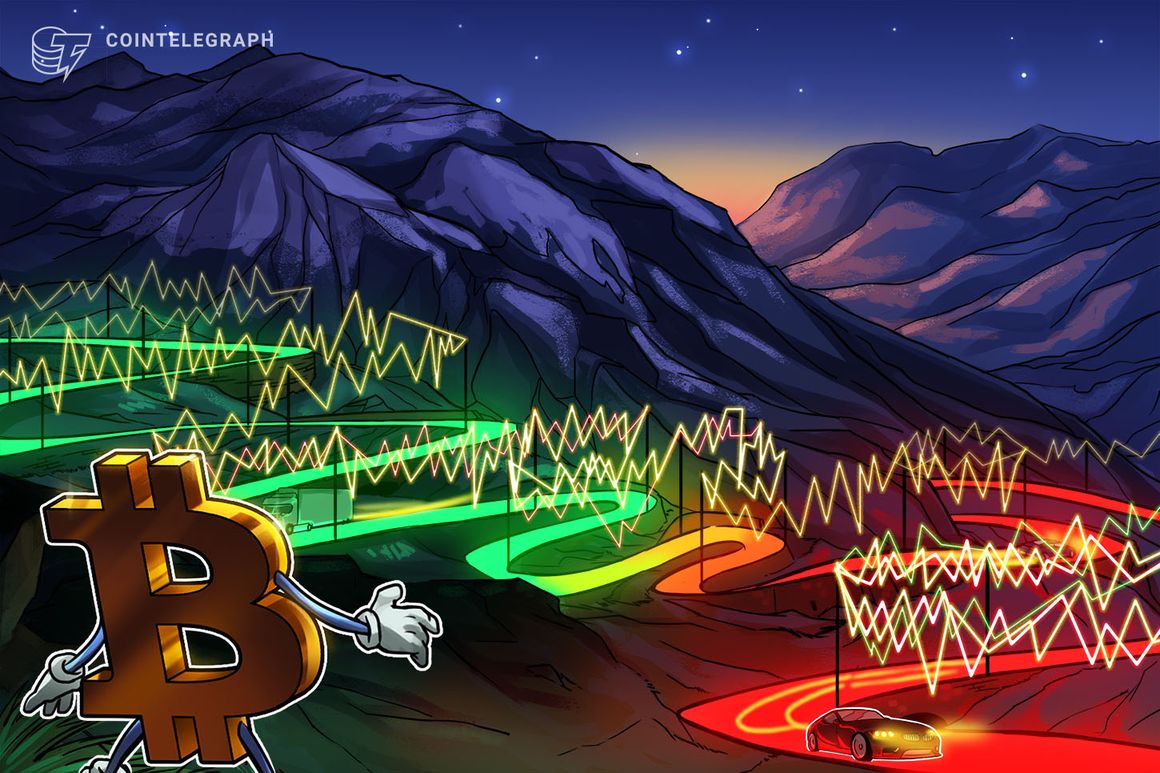 Bitcoin (BTC) experienced a downward trend after the Wall Street opening on September 21, causing $20,000 BTC price predictions to resurface.
Bitcoin analysis: Hype, FOMO, and a "slow grind" to $28,500
Over the past 24 hours, BTC price action has been lackluster, with the $27,000 mark disappearing from view, according to data from Cointelegraph Markets Pro and TradingView.
The recent pause in United States Federal Reserve interest rates offered little encouragement to Bitcoin bulls, as BTC/USD experienced a drop of nearly $700 the day before.
With the absence of tangible volatility, market participants are adopting a more conservative outlook.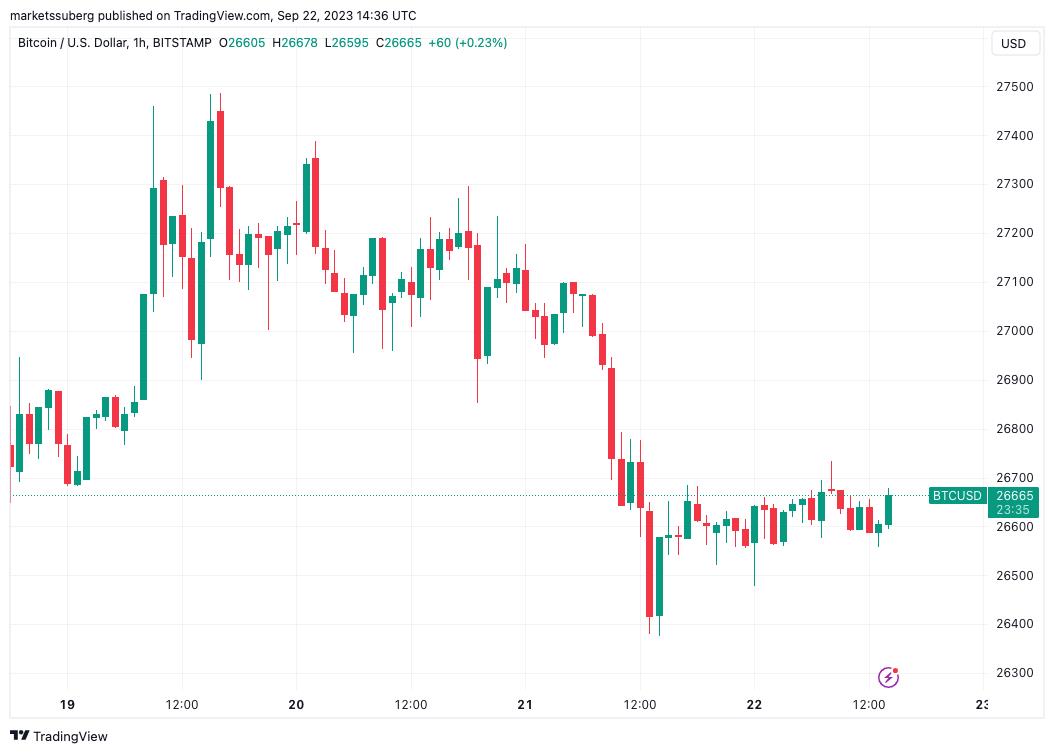 According to popular trader Crypto Tony, the ideal scenario would be a slow grind up to $28,500, followed by hype and FOMO, only to see the price drop again. He shared this sentiment with X (formerly Twitter) subscribers.
Monitoring resource Material Indicators spotted a potential "death cross" forming on the weekly chart. A "death cross" occurs when certain moving averages (MAs) intersect, in this case, the 21-week MA heading below the 200-week equivalent.
Material Indicators warned in an X post that "The 21-Week and the 200-Week Moving Averages are on a collision course for a DeathCross on the BTC Weekly candle Close/Open."
They also noted the possibility of a lower low (LL) at the weekly close and suggested that Bitcoin may decline to test the $20,000 level.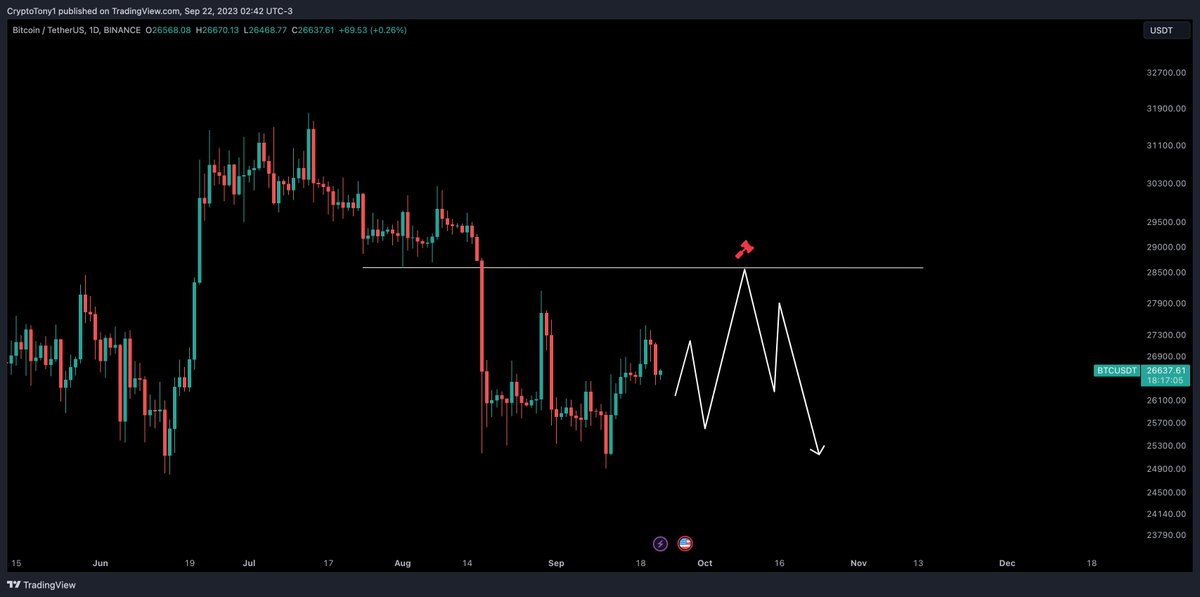 Another factor on the horizon is the liquidation of crypto assets by defunct exchange FTX, which could add to the selling pressure on BTC.
The X post ended by speculating that the FTX liquidators might try to support the price to minimize erosion before distributing the assets.
Traders eye bargain BTC price levels
Despite the challenges, some traders maintain a more optimistic outlook. CryptoCon, a popular trader and analyst, believes that Bitcoin is in the early stages of its next bull market.
He shared a chart showing the different market phases, with Bitcoin's early and late bull markets marked in green, and the end of a bear market in red.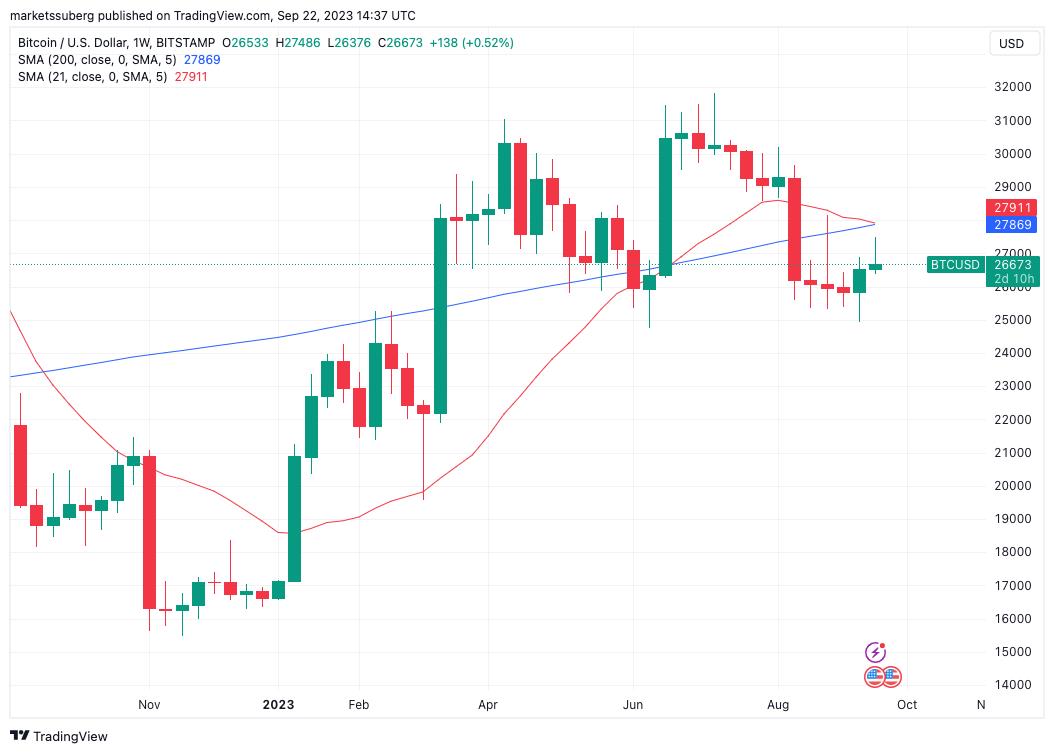 Historically, the period of "post-bottom consolidation" has presented a great buying opportunity.
At the time of writing, BTC/USD is trading around $26,600, with September gains of approximately 2.5%. This makes September Bitcoin's best month since 2016, according to data from monitoring resource CoinGlass.
Please note that this article does not provide investment advice or recommendations. Readers should conduct their own research and understand the risks associated with investing and trading.