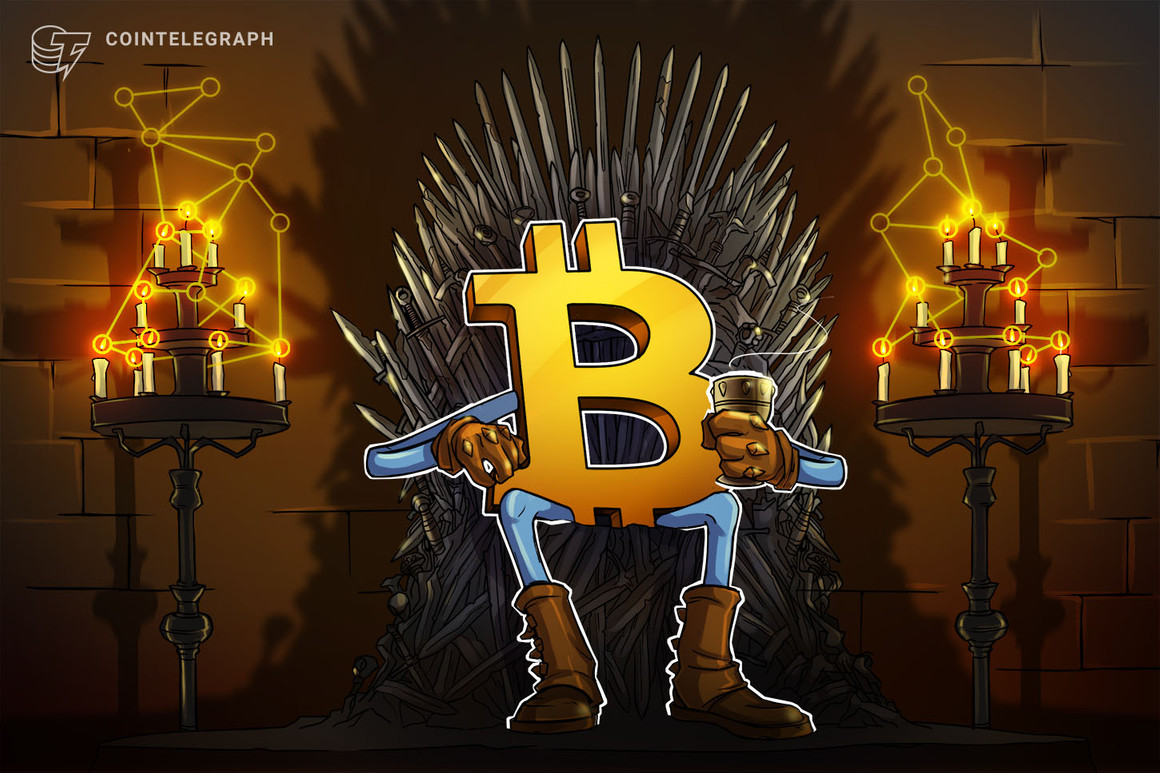 The second quarter of the year has been a solid one for Bitcoin's performance as its market dominance gained against altcoins which "bled" throughout the quarter according to CoinGecko.
On July 18, the crypto data aggregator released its industry report for Q2 2023 which noted Bitcoin (BTC) and Ether (ETH) continued to build upon their Q1 gains over Q2.
Meanwhile, Binance Coin (BNB), XRP (XRP) and Cardano (ADA) suffered double-digit losses over that time.
CoinGecko said BNB and ADA saw the largest losses as both were labeled securities in lawsuits against Binance and Coinbase filed by the Securities and Exchange Commission (SEC).
Decentralized finance (DeFi) tokens were hit particularly hard during the quarter with Uniswap (UNI), Chainlink (LINK) and Lido (LDO) taking double-digit losses.
The top five metaverse and play-to-earn tokens by market cap including Axie Infinity (AXS), Sandbox (SAND) and Decentraland (MANA) also marked losses of up to 40%.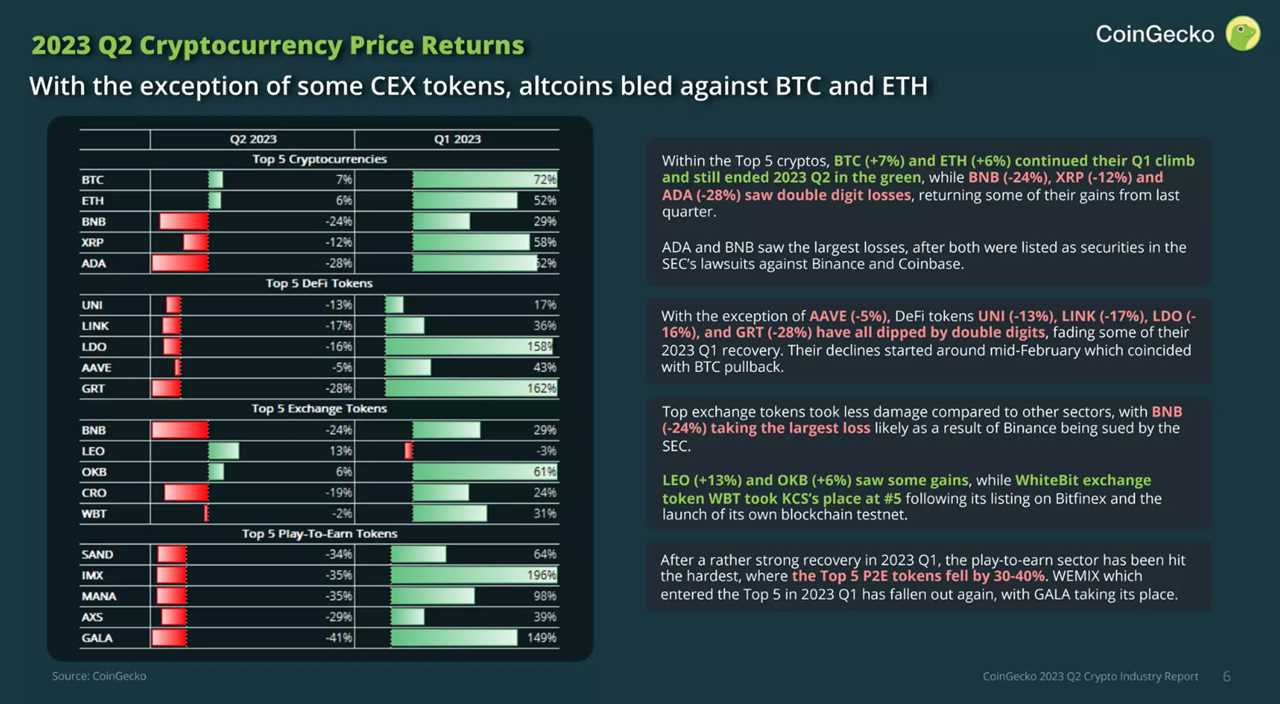 As a result, Bitcoin dominance increased to a two-year high of just over 52% in late June. However, it dropped back below 50% recently with the altcoin rally driven by Ripple's partial court victory.
Additionally, most of the altcoins that made gains following the 80% XRP pump have already lost them, returning markets to the status quo before the court's ruling.
CoinGecko reported the total market cap remained sideways for the quarter, ending where it started the period at $1.2 trillion. It has remained sideways into the third quarter and is still at $1.2 trillion at the time of writing.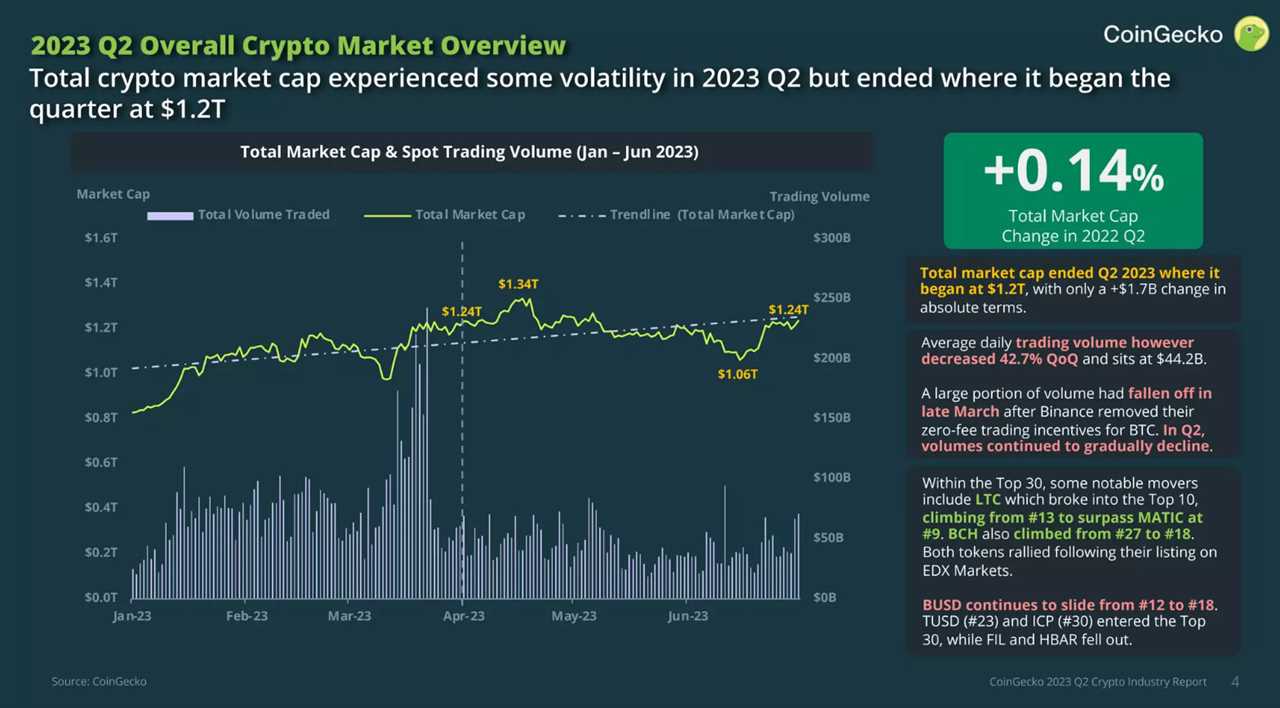 The big winner for the period was Bitcoin with a gain of almost 7% which outperformed the rest of the market, the report noted. However, the average daily trading volume for BTC declined 58.7% from the previous quarter.
Related: 'Altcoin season' anyone? Bitcoin dominance tumbles after XRP victory
"After a stellar Q1, Bitcoin still outperforms most major asset classes in Q2, only lagging behind the NASDAQ and S&P500," the report stated.
With most altcoins aside from XRP continuing to retreat at the moment, hopes for an early 'altseason' are dwindling as Bitcoin remains the king of crypto.
Magazine: Should you 'orange pill' children? The case for Bitcoin kids books
Title: Altcoins 'bled' with Bitcoin's dominance hike in Q2: CoinGecko
Sourced From: cointelegraph.com/news/bitcoin-dominance-in-q2-2023-bled-altcoins-coingecko
Published Date: Wed, 19 Jul 2023 05:15:12 +0100