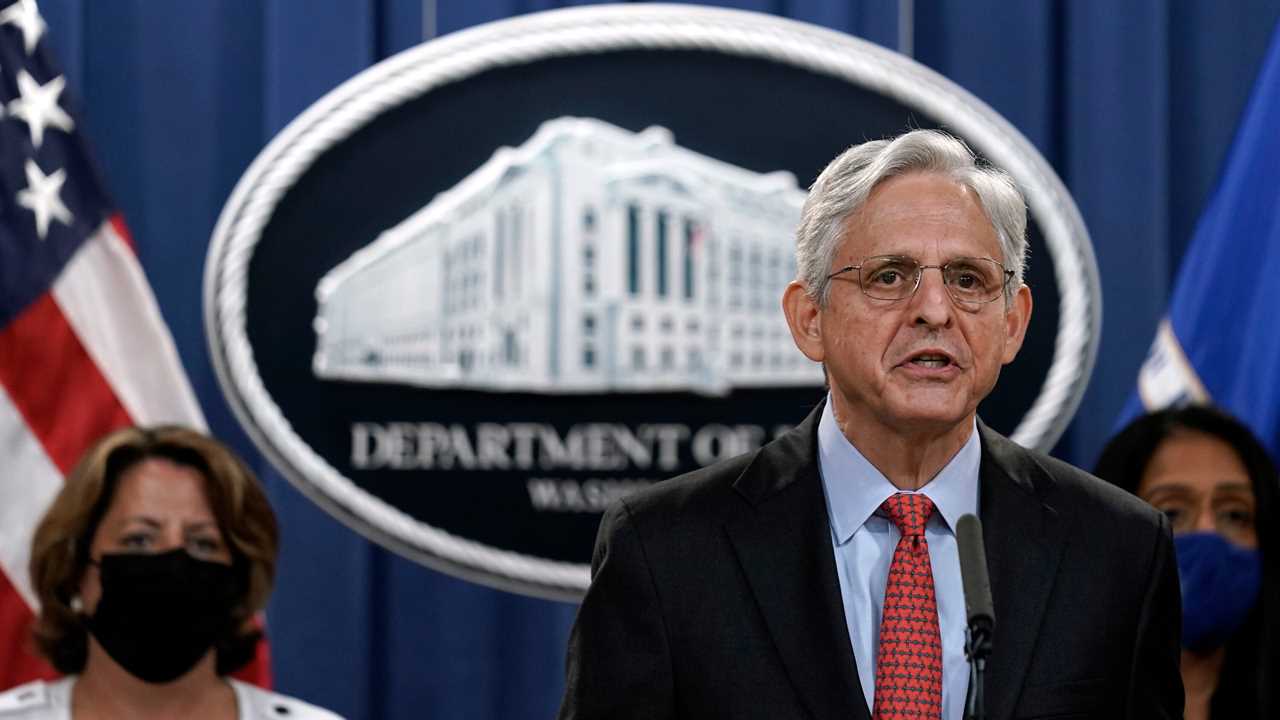 WASHINGTON — The Justice Department will curb the power of the monitors who oversee local police departments carrying out federally mandated reform plans, Attorney General Merrick B. Garland told the nation's law enforcement officers on Monday.
The announcement was praised by law enforcement officials. They have long argued that the monitors, who earn lucrative consulting fees while police forces make changes, have incentive to keep departments locked into such overhaul plans for too long.
Mr. Garland's remarks come as the Justice Department under the Biden administration has increased its scrutiny of policing practices, opening investigations into allegations of abuse patterns by forces in Minneapolis; Louisville, Ky.; and Phoenix, cities that saw high-profile cases of officers killing civilians.
Such investigations often lead to so-called consent decrees, court-approved deals between the Justice Department and local governments that create and enforce a road map for training and operational changes. Monitors are appointed to oversee the agreements.
"While consent decrees and monitorships are important tools to increase transparency and accountability, the department can and should do more to improve their efficiency and efficacy," Mr. Garland said in remarks delivered via video at the annual conference of the International Association of Chiefs of Police.
"Organizational change takes time, but a consent decree cannot last forever," Mr. Garland said.
He said the department would immediately put in place 19 actions to address police concerns, including placing caps on monitors' fees and assessing their work after a set term to determine whether their contracts should be renewed or whether the consent decree should be terminated.
And the department will restrict monitors from serving on multiple cases at the same time.
"Monitoring is a public service, and there should be no question that the monitors' commitment is to the department and community they serve — not to their bottom line," Mr. Garland said.
The actions are the result of a 120-day review of monitors and consent decrees that began soon after Mr. Garland and his top deputies were confirmed to lead the Justice Department in March and April.
The review was led by the associate attorney general, Vanita Gupta, and it included over 50 listening sessions with police and other local officials, mayors, civil rights advocates and the monitors themselves. Ms. Gupta shared her findings and the 19 recommended actions on Monday in a memo addressed to Mr. Garland.
Her recommendations covered law enforcement officials' complaints of more than two decades, said Chuck Wexler, a former police official in Boston and the executive director of the Police Executive Research Forum, a law enforcement organization dedicated to improving the professionalism of policing. The group issued a report in 2013 outlining many of the issues that the Justice Department addressed on Monday.
Mr. Wexler said he hoped the department's plans would make consent decrees more credible, effective and accountable in the eyes of the police and citizens.
"This is a big deal," he said. "This is what we've asked for. It builds accountability into a process that needs accountability."
Mr. Wexler said that this spring, Mr. Garland and Ms. Gupta made clear in a meeting with law enforcement officials that the Biden administration intended to use consent decrees where appropriate to overhaul police departments — a practice that had been a hallmark of the Obama administration's civil rights agenda and all but ended during the Trump administration.
But Mr. Wexler said the officials acknowledged that he and his colleagues had concerns about the use of monitors as part of the consent decree process, and said that Ms. Gupta would oversee a comprehensive look at monitors and issue recommendations.
Ms. Gupta's memo outlined principles for effective monitoring: The position should be devised to minimize cost, to avoid conflicts of interest or appearances of them, and to work efficiently. Monitors should also use consistent standards to assess police departments and should maintain contact with the community, the memo said.
She recommended changes that Mr. Garland immediately adopted. Beyond the fee caps, according to the memo, the department will impose a term for monitors that can be renewed only by a court after an evaluation.
Future consent decrees will also require a hearing after five years so that local governments can determine whether police forces have made progress and whether the consent decree should be terminated. If departments fall short of full compliance within five years, officials at the hearing can solidify a plan "for getting over the finish line in short order," the memo said.
The department also restricted monitors to working on one case at a time to "dispel any perception that monitoring is a cottage industry," Ms. Gupta's memo said.