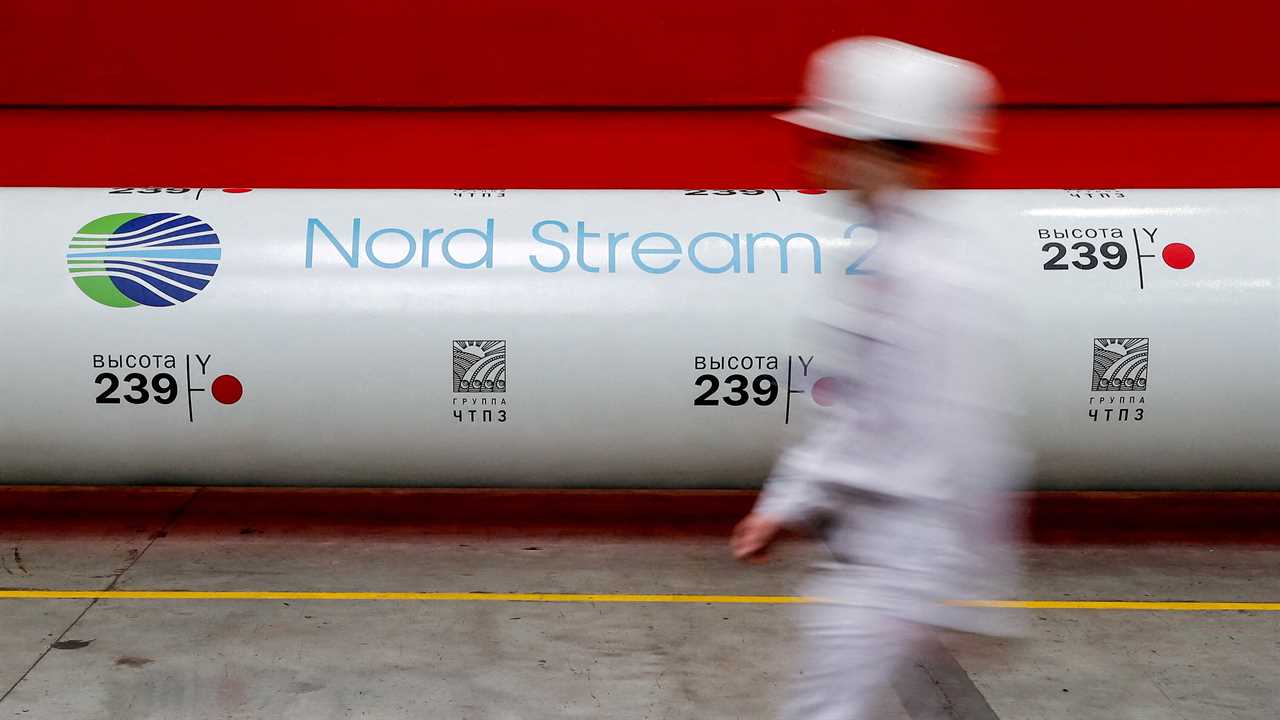 WASHINGTON — The Senate on Thursday rejected a bid to impose sanctions on a Russian natural-gas pipeline, as Democrats set themselves against a Republican-led measure endorsed by Ukrainian leaders but opposed by the Biden administration amid fears of a Russian invasion of Ukraine.
The final tally of 55 to 44 fell short of the 60 votes needed for passage, and came as the United States and its trans-Atlantic allies were pressing Russia's president, Vladimir V. Putin, to abandon any further incursion into Ukraine and pull back his troops from its borders. The bill prompted dueling lobbying campaigns on Capitol Hill, where top Ukrainian officials leaned on senators to back it and Biden administration officials sought to kill it.
Efforts to impose sanctions on the Nord Stream 2, an undersea gas pipeline from Russia to Germany that would give Moscow enormous leverage over Europe, have long drawn bipartisan support on Capitol Hill, where lawmakers have enthusiastically sought to bolster Ukraine against Russian aggression. But the timing of the vote — amid continuing diplomatic talks between Russia and the United States in the hopes of averting war — as well as the Biden administration's vocal opposition ultimately helped fuel the measure's defeat.
Six Democrats — some of them facing difficult re-elections in 2022 — defected from their party's position and voted in favor of the measure, reflecting that a majority of senators supported the new sanctions.
The Biden administration and its allies in Congress argued the legislation, led by Senator Ted Cruz, Republican of Texas, would do little to counter Russian influence because the pipeline's construction is nearly completed. Instead, they said, the sanctions would drive a wedge between the United States and Germany, which has championed the pipeline as vital to its industrial success, and give up a key point of leverage during diplomatic negotiations.
"If this bill passes, it won't make the Nord Stream pipeline any less likely," said Senator Christopher S. Murphy, Democrat of Connecticut. "It won't stop Russia from invading Ukraine. In fact, it will do the exact opposite. It will make the completion of Nord Stream more likely, and it will be a gift to Russia, dividing us from our European allies right at the moment when we need to be in solidarity with them in order to deter Russian aggression."
Republicans accused Democrats of allowing Russian aggression to go unchecked, painting their reluctance to impose sanctions as politically motivated.
"The White House is furiously lobbying Democrats, asking Democrats to stand with their party at the expense of our allies, at the expense of Europe, at the expense of U.S. national security," Mr. Cruz said. "I would suggest if Joe Biden were not president, if Donald Trump were sitting in the Oval Office today, every single Democrat in this chamber would vote for these sanctions."
Senator Mitch McConnell, Republican of Kentucky and the minority leader, sought to defang Democrats' argument that the sanctions would erode unity between the United States and its European allies.
"The pipeline itself is the wedge," Mr. McConnell said. "That's the whole point. That's been Putin's goal: decoupling Ukraine from Europe and making Europe even more reliant on Russian gas."
Mr. Cruz's legislation set off a fierce round of lobbying, squeezing in particular centrist Democrats who have long been supporters of Ukraine. On a Christmas Eve video call with a bipartisan group of more than 20 lawmakers, President Volodymyr Zelensky of Ukraine cast Nord Stream 2 as an existential threat to his country, arguing that the pipeline posed as much risk to Ukraine as the Russian troops amassing on its border, according to four people briefed on the call, who described it on condition of anonymity because they were not authorized to comment on it.
Mr. Zelensky, they said, expressed frustration that the Biden administration had waived sanctions on the pipeline last year. Since then, Mr. Zelensky has promoted Mr. Cruz's bill on Twitter.
A lobbyist who represents the Ukrainian oil and gas industry, including the state-owned company Naftogaz, reached out this week to the offices of Senate Democrats to urge support for Mr. Cruz's bill, according to a person familiar with the outreach.