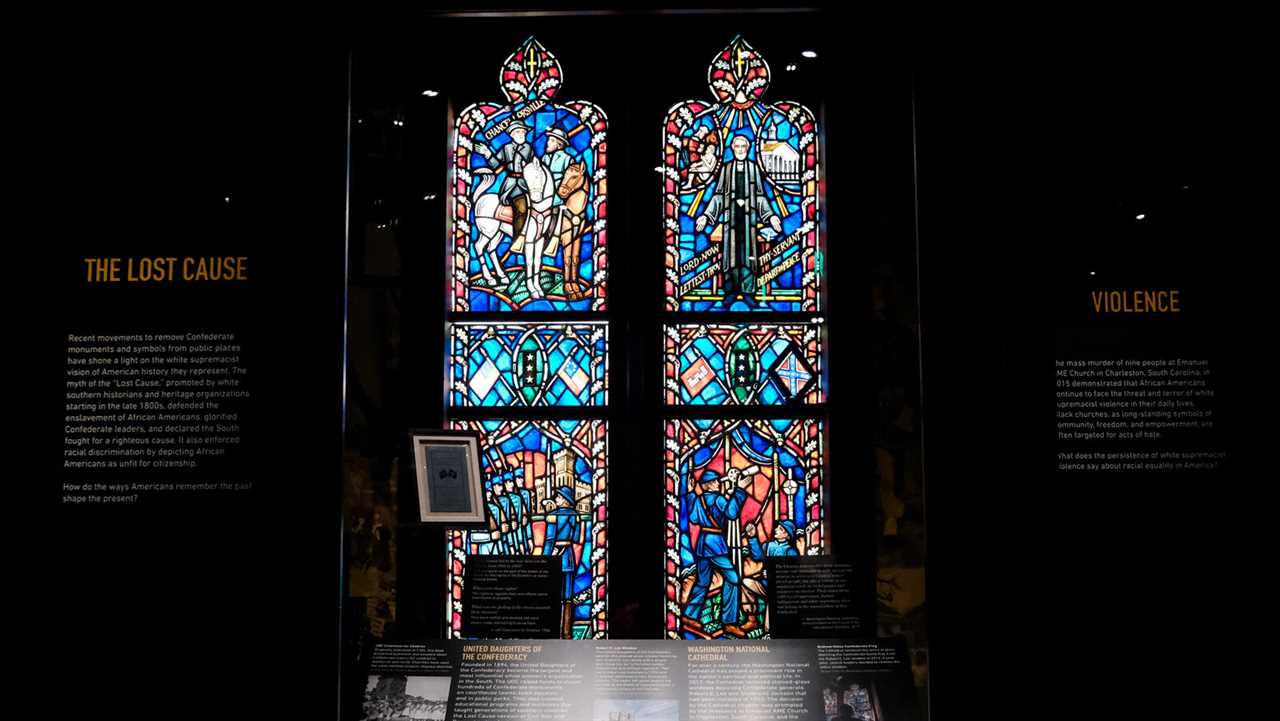 WASHINGTON — Four years after removing stained-glass windows honoring two Confederate generals, Washington National Cathedral officials said Wednesday they had chosen an acclaimed Black artist, Kerry James Marshall, to design their replacements.
The artist visited the cathedral for the first time on Wednesday after being given the task of healing a small wound in the country's second-largest cathedral. Together with the poet and author Elizabeth Alexander, Mr. Marshall will design two stained-glass windows addressing themes of racial justice to replace those that paid tribute to Generals Robert E. Lee and Stonewall Jackson.
"Right now I don't have a clear concept of what I think I will do," he said. "It will have to be work that is able to synthesize a multiplicity of ideas and sentiments about what the country represents for all of us. There will be some kind of imagery that presents itself as an invitation to reflection on the meaning of America now."
The decision in 2017 to remove the windows was preceded by a debate that began in 2015, after a self-described white supremacist shot and killed nine African Americans at an Episcopal church in Charleston, S.C. It became even more urgent in 2017, when white nationalists rallied in Charlottesville, Va., against the removal of a statue of Lee. A woman was killed when one of those protesters drove his car into the crowd of counter protesters.
"The windows became barriers for people to feel fully welcome here," the Very Rev. Randolph Hollerith, the dean at the cathedral, said in an interview on Wednesday. "And so we came to the point where contextualization was no longer possible — but the windows needed to be removed from the sacred space."
Mr. Marshall, who won a MacArthur Fellowship in 1997, received acclaim for a major retrospective of his work that opened in 2016 at the Museum of Contemporary Art Chicago and traveled to the Met Breuer in New York and the Museum of Contemporary Art, Los Angeles. He is known for painting unapologetically Black figures on a grand scale, correcting their omission from the tradition of Western art.
For the cathedral, he will be working with stained glass for the first time. The installation will cover four window sections, or lancets, that are six feet tall and one-and-a-half-feet wide. He plans to include figures for his cathedral piece as well.
"There are likely to be figures in the windows, some of them are likely to be Black figures, but I can't say this is all you are going to see there because I think the scope of the windows needs to be more expansive than just that," he said.
In the summer of 2020, amid nationwide protests following the murder of George Floyd by the police, the cathedral began collaborating with the Smithsonian National Museum of African American History and Culture to plan the public exhibition of the removed windows. The Lee window is to go on display at the museum starting this weekend.
Ms. Alexander — who will contribute a poem that will be inscribed in stone tablets alongside Mr. Marshall's windows — has visited the cathedral frequently since she was a child growing up in Washington. She said she had actually never paid attention to the Lee and Jackson windows. "But it is a great gift of the progress of our society that now we do notice and ask questions about why something is where it is and what it is teaching us."
And the Washington National Cathedral has been asking questions like these for years now. In the western section of the cathedral, its leaders have long commemorated human rights figures. Stone carvings of Mother Teresa, Rosa Parks and others are shown there, on the so-called human rights porch. In April, a tribute to Elie Wiesel, the Holocaust survivor, author and Nobel laureate, joined them.
Dean Hollerith said the decision to remove the windows was not without controversy.
"But I am so proud that we spent time on conversation on why the windows were put in in the first place, what was going on in 1953, and what the legacy of Jackson and Lee is," he said. "Cathedrals are never finished."
The new windows and the poem are expected to be unveiled in 2023.