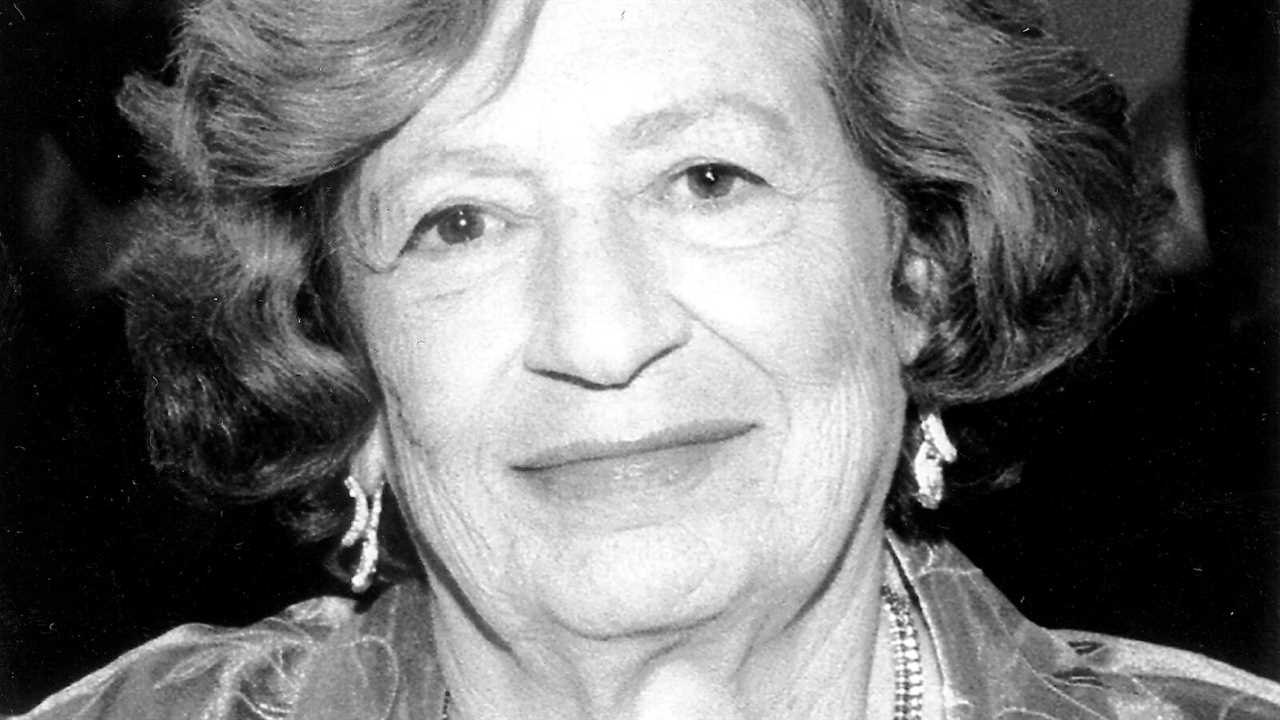 Midge Decter, a writer and editor who abandoned liberalism to help lay the intellectual foundation for the neoconservative movement and the so-called culture wars over feminism, gay rights and other social issues, died on Monday. She was 94.
Her daughter Naomi Decter confirmed the death. No other details were provided.
Ms. Decter was in the forefront of an ideologically evolving generation of public intellectuals. Cutting their teeth on leftist politics in the 1930s and '40s, they settled into anticommunist liberalism in the 1950s and early '60s. Jolted by the turbulence of the student and women's movements, they later broke from liberals to embrace a new form of conservatism — championing traditional social values, limited free-market economics and muscular American foreign policies — that reached its zenith in the early 21st century in the administration of President George W. Bush.
Ms. Decter wielded her influence as editor of Harper's and other magazines, as an author and book editor, and as a political organizer and frequent speaker.
As conservative politics in America gained steam in the 1980s, her voice came to be increasingly heeded by a select group of people in the elite circles of government, academia and intellectual journals. Gore Vidal, an intellectual foe, put it another way in The Nation in 1981, calling her "very well known indeed to those few who knew her."
Ms. Decter's ideological shift in the late '60s stemmed from a rising concern that she expressed in her 2001 memoir, "An Old Wife's Tale: My Seven Decades in Love and War." Liberalism, she said, rather than speaking to the common man and woman as it had in the past, was veering off the tracks into "a general assault in the culture against the way ordinary Americans had come to live."
She and her husband, the writer and fellow former liberal Norman Podhoretz, worried about the effect the new thinking, particularly that of the counterculture, might have on their children and succeeding generations.
Their concerns were shared by similarly disaffected liberals, and in informal conversations they helped seed a movement called neoconservatism, a strain of aggressive conservative thought that would begin to grow during the administration of Ronald Reagan and flower in that of George W. Bush, influencing many of the policymakers who argued for the invasion of Iraq.
Theirs was an influential cadre, led by the scholar and editor Irving Kristol and joined by, among others, Jeane Kirkpatrick, Diana Trilling, Seymour Martin Lipset and Daniel Patrick Moynihan. Mr. Kristol gave neoconservatism a platform in The Public Interest, a magazine he founded with Daniel Bell. And if neoconservatism could never be precisely defined, he was pithy in describing someone who subscribed to it — as a liberal who had been "mugged by reality." (His son, William Kristol, carried on the cause as the founding editor of the conservative magazine The Weekly Standard and as a commentator, now with The Bulwark.)
Ms. Decter came to call herself simply a conservative. She captured attention in the 1970s as a leading critic of feminism and other social movements, and in the 1980s as an ardent Cold Warrior at a time when relations between East and West were thawing a bit.
She argued that the real revolution that allowed women to have careers was not the women's movement but the availability of modern forms of birth control. To Ms. Decter, women had a biological destiny to be wives and mothers, and those who tried to escape it evinced self-hatred.
In her 1972 book, "The New Chastity and Other Arguments Against Women's Liberation," she wrote that women's "true grievance" is not that they are "mistreated, discriminated against, oppressed, enslaved, but that they are — women."
She offered a solution: Single women should remain chaste, because women are naturally monogamous. And withholding sex, she said, was a form of power over men.
Her next book, "Liberal Parents, Radical Children" (1975), kicked up a storm of criticism by calling the youth of the 1960s an aimless generation and blaming their parents' permissiveness for that failure.
She also took on affirmative action, the gay rights movement and the defense establishment, which she accused of being dangerously lax in military preparedness. Her Committee for the Free World, started in 1981, was successful in pushing for greater military spending under President Reagan. (She disbanded it when the Soviet Union collapsed.)
She was born Midge Rosenthal on July 25, 1927, in St. Paul, Minn., the youngest of three daughters of Harry and Rose (Calmenson) Rosenthal. As the last born, she wrote, she became "a kind of honorary son," meaning she was given a longer leash because more was expected of her.
She worked in her father's clothing and sporting goods store as a teenager and participated in her high school's literary magazine. After attending the University of Minnesota for a year, she went to New York to study at the Jewish Theological Seminary of America from 1946 to 1948. She never earned a college degree.
Shortly after moving to New York, she married Moshe Decter, a writer and Jewish activist, and found a job as secretary to the managing editor of Commentary, the intellectual journal published by the American Jewish Committee.
Ms. Decter left Commentary when she became a mother — she and Mr. Decter had two children — devoting herself to child-rearing full time and socializing with other homemakers in Queens. She found being around a 2-year-old "a sensual and social pleasure of the extremest kind," she told The Daily News in 1980.
She and Mr. Decter divorced in 1954. (Reviewers noted that she did not mention his name in her memoir, even though she kept it for herself.) She married Mr. Podhoretz in 1956, when he was associate editor of Commentary. He later became its editor.
Mr. Podhoretz once said that she first caught his attention several years earlier when he was trying to impress another young woman by quoting T.S. Eliot. Overhearing him, Ms. Decter corrected him; he had misquoted the poet.
After returning to the workplace, she began building her résumé: assistant editor at Midstream magazine, managing editor of Commentary, editor at the Hudson Institute, editor of CBS Legacy Books.
She was executive editor of Harper's from 1969 to 1971, working with the renowned editor Willie Morris during a particularly fertile literary period for the magazine. When Mr. Morris resigned in a dispute with the owner, Ms. Decter followed suit.
Saturday Review soon hired her as book review editor. From there she went to Basic Books as senior editor. She remained there until 1974.
Ms. Decter wrote books as she moved from editing job to editing job. The first, "The Liberated Woman and Other Americans" (1970), was mainly a collection of essays written for magazines. Michelle Murray, in The National Observer, wrote that Ms. Decter had "joyfully seized an adversary role" as the women's movement gained traction.
After leaving Harper's, Ms. Decter immersed herself in the literature of the women's movement and then challenged it with "The New Chastity." She concluded that feminists saw children as the enemy — as "alternately demanding and boring." She herself became "the requisite bad guy" on feminist discussion panels, she wrote in her memoir.
The book on permissive parents followed in 1975, but she did not write another book until "An Old Wife's Tale" in 2001. In the intervening years she largely devoted herself to her anti-communist work, cheered what conservatives called the Reagan revolution and condemned politics based on gender, race and other ascriptive traits. She served on the boards of conservative think tanks, including the Heritage Foundation, the Center for Security Policy and the Hoover Institution.
In addition to her daughter Naomi, her survivors include her husband and a son, John Podhoretz, the current editor of Commentary. Complete information on survivors was not immediately available.
A daughter from Ms. Decter's first marriage, Rachel Abrams, a writer and artist and the wife of Elliott Abrams, the diplomat and White House foreign policy aide, died in 2013. Mr. Decter died in 2007.
"Decter has made her mark as a public intellectual of consequence," Elizabeth Fox-Genovese wrote in 2001 in National Review, a pillar of American conservatism.
Many on the left had other views, including Mr. Vidal, who called her "a virtuoso of hate" for her criticisms of the gay rights movement.
Ms. Decter countered that liberals had become unable to recognize unacceptable behavior and condemn it. Legalizing abortion, as a philosophical matter, was one thing, she said, but when there are more abortions than live births in some places, something in society has gone wrong.
"One has somehow got to make distinctions, draw lines," she said, "and liberalism has failed to do so."
Jordan Allen contributed reporting.