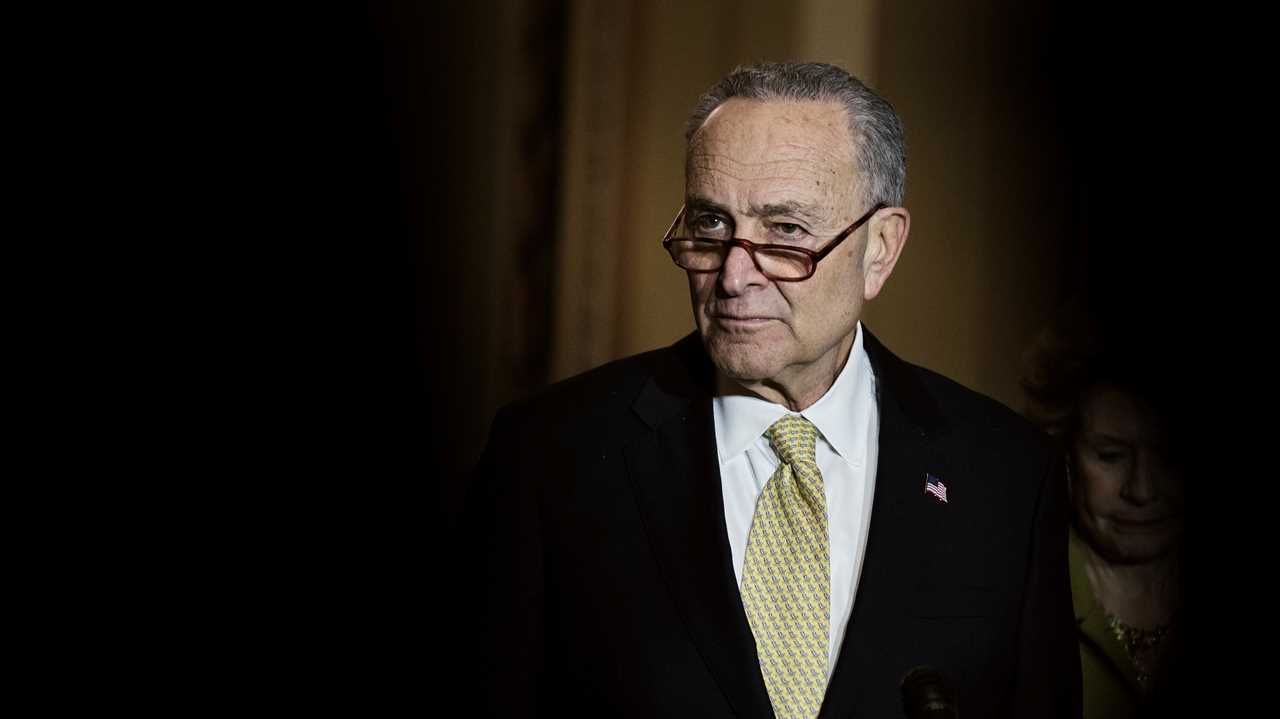 Democrats were floundering, and Senator Chuck Schumer had a lot on his plate.
His party couldn't pass its legislative agenda, it had just suffered major electoral losses, and he had a long list of Biden administration nominees to shepherd through.
But despite his busy schedule, Schumer, the majority leader and a Democrat who embodies the party establishment, still took the time for a warm gesture to his native New York's strong progressive left. Appearing live via video, he showed up at an inauguration celebration in December for the New York City Council's most prominent incoming left-wing member, Tiffany Cabán, who took the oath of office with the help of Representative Alexandria Ocasio-Cortez.
Schumer's attendance was in some ways just another stop on his always-packed New York itinerary. But the moment also vividly illustrated why — barring some extraordinary development — Schumer has attracted no serious left-wing challenger to his Senate re-election bid as Thursday's primary filing deadline arrives, despite months of speculation about who might emerge.
"He's been really relational," said Cabán, who is a favorite of the New York City Democratic Socialists. "He shows up."
Indeed, he is a highly visible presence from Brooklyn to Buffalo, building relationships with elected officials at every level of the ballot and across the Democratic ideological spectrum. But Schumer's efforts to engage the farthest-left faction of his party have been particularly consequential in New York, a state where several top Democratic officials have lost primaries in recent years.
He has often teamed up on local issues with left-wing lawmakers including Ocasio-Cortez and Cabán. (He also recently schmoozed over empanadas at a Cabán office opening, she said on Wednesday.)
In the Buffalo mayor's race, he endorsed the Democratic nominee, a democratic socialist, while other prominent elected officials stayed on the sidelines (the candidate lost, but good will for Schumer remains). And in New York and nationally, he loudly champions progressive priorities including canceling student debt.
More broadly, he helped secure significant federal aid for New York, he has an overwhelming fund-raising advantage and polls show that he is popular at home. Challenging him in a pricey statewide race would be a daunting task.
Certainly, the Senate majority leader is not an obvious favorite for New York's left-wing grass-roots. Democrats of all stripes remain frustrated by the pace of progress in the divided Senate, while moderate donors have at times been discomfited by his overtures to the left.
But Ocasio-Cortez, who long drew chatter about a possible Senate bid, has said she is running for re-election. Schumer received his party's backing by acclamation at the Democratic convention. And he secured the endorsement of the left-wing New York Working Families Party.
"Chuck Schumer is everywhere, he always will be," said Angelo Roefaro, Schumer's spokesman. "Plain and simple: omnipresence."
What to read tonight
Jazmine Ulloa reports from Ohio on how Representative Tim Ryan, a Democrat, is trying to win back white, working-class voters in his Senate bid.

A group of conservative megadonors — including figures like Peter Thiel and Rebekah Mercer — has quietly formed a coalition to shape the midterms and the Republican Party.

President Biden's decision to extend a moratorium on student debt payments is the latest example of a bigger political challenge: The policies that help households stretch their budgets could complicate messaging on curbing inflation.

Executives from six large oil companies appeared before a House committee and defended themselves against criticism over higher gas prices, a top concern for Democrats ahead of the midterms.

Representative Bob Gibbs, an Ohio Republican, is retiring rather than taking on a Trump-endorsed challenger.
Briefing book
School-board elections — an early midterms test?
Those looking for clues to the November midterm elections got some fresh data points last night. And the clues are coming from an unlikely place: school boards.
This year, Wisconsin held some of the earliest school-board elections in the country. Like everything else in American politics, these normally sleepy contests have become sharply polarized — and closely watched.
Nationally, Republicans see an opportunity to erode the Democrats' traditional advantage on education, capitalizing on widespread frustration over schooling during the coronavirus pandemic. Under the banner of "parents' rights," they've stoked controversies over L.G.B.T.Q. issues and critical race theory, an academic legal concept that has become a loose shorthand for a contentious debate on how schools teach about race.
It's a strategy that complements Republicans' emphasis on local elections as a means of energizing the base of the party. Last year, Senator Ron Johnson urged Wisconsin voters to "take back our school boards, our county boards, our city councils."
So how did it go? Republicans in Wisconsin invested more than $70,000 in school-board races this year, according to The Milwaukee Journal Sentinel. Rebecca Kleefisch, a former lieutenant governor who is running to oust Gov. Tony Evers, the Democratic incumbent, endorsed a slate of 48 candidates in school board contests. Thirty-four of them won.
But the raw numbers can be misleading. Republicans picked up seats in Waukesha County, a longtime G.O.P. stronghold, but failed to make inroads in most contested areas. Scarlett Johnson, a conservative activist who drew national attention for organizing a recall of her local school board last fall, lost her election bid in a suburb north of Milwaukee.
In contested Eau Claire, two incumbents backed by Democrats and teachers' unions, Tim Nordin and Marquell Johnson, were narrowly re-elected with some help from the state party. Both had complained of receiving harassment during the campaign, during which conservative candidates criticized school training materials on how to discuss children's sexual identities.
In an email, Nordin said the results were a repudiation of "false narratives about race and identity." He added, "Our community saw through dog whistles and rejected barely disguised attacks on our children."
Michael Ford, a professor of public administration at the University of Wisconsin Oshkosh who tracks school board elections, noted that Republican-backed candidates had done well in the suburbs of Milwaukee, though the results elsewhere were more of a wash.
"In the last presidential election, there were many conservative-leaning suburban voters who were uncomfortable with Trumpism," Ford said. Last night's results could be a sign that education issues are returning those voters to the G.O.P. fold, he said.
Wisconsin is one of the most hotly contested battleground states in the nation, and each party will be poring over the outcome of these races for weeks to come. Republicans viewed the elections as a tuneup ahead of November, when they are keen to replace Evers and defend Ron Johnson's Senate seat. The state party praised last night's results as "a testament to the strength of the grass-roots Republican operation."
Ben Wikler, the chairman of the Wisconsin Democratic Party, said that Republicans had "fizzled out completely" outside suburban Milwaukee by "making fringe arguments to an evenly divided electorate."
He hailed the results as a good sign for Evers, a former science teacher who has made his handling of education issues central to his re-election pitch.
"If the far-right candidates had won, I'd be worried," Wikler said.
Thanks for reading. We'll see you tomorrow.
— Blake & Leah