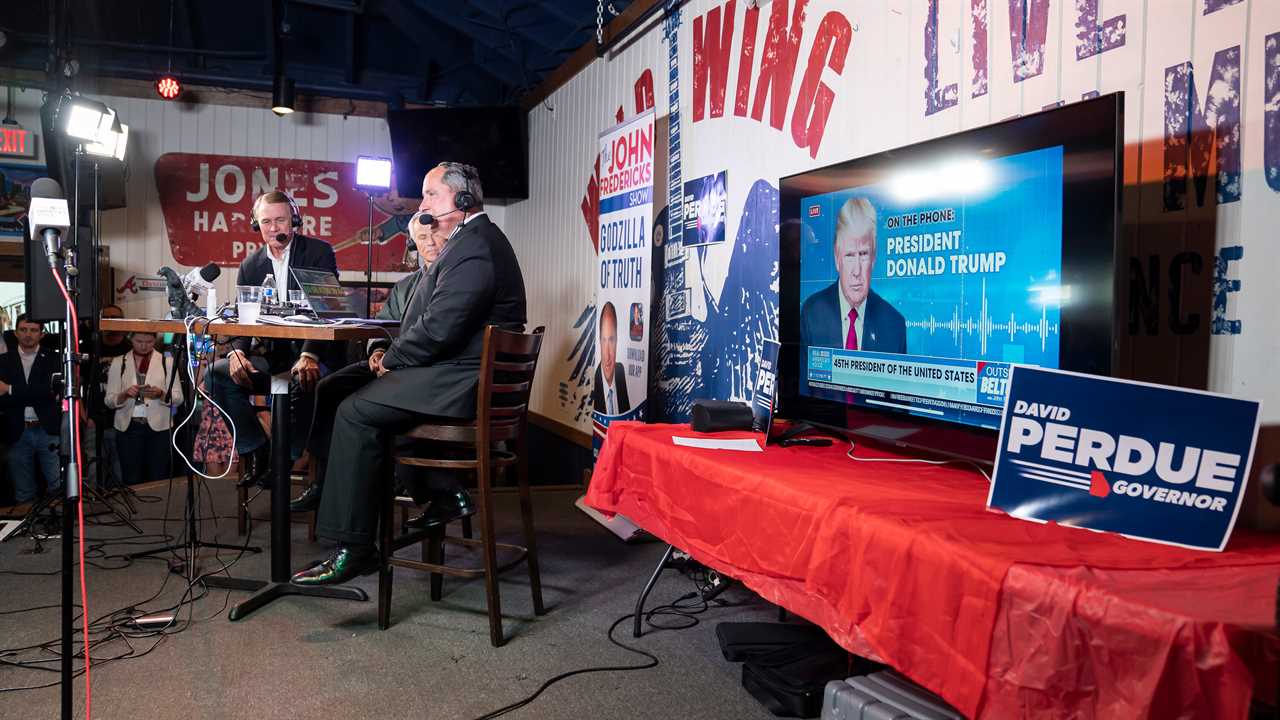 It's the crucible of American politics.
Georgia's got everything: disputed elections, rapid demographic change, celebrity Democrats, a restrictive new voting law, an open criminal investigation into Donald Trump's meddling in the 2020 election, a deep rural-urban divide and unending drama between the Trump wing of the Republican Party and the local G.O.P. establishment.
It's a longtime Republican stronghold that has become a battleground state. Trump won Georgia by more than 200,000 votes in 2016, then lost it by fewer than 12,000 votes four years later. Georgia was where President Biden made his doomed final push to pass voting rights legislation in the Senate. It was where Democrats picked up two crucial Senate seats on Jan. 5, 2021, giving them the barest control of both chambers of Congress.
But those gains are fragile, and Republicans are confident they can win the governor's race and regain one of the Senate seats. It's largely for the usual reasons: high prices for the two Gs — gas and groceries — as well as Biden's low job approval ratings. Either way, millions of campaign dollars will flow into Georgia between now and November.
Before all that, though, we'll have to get through Tuesday's primaries. Here is what else is going on:
Trump vs. Pence
On Monday, Trump and Mike Pence, his former vice president, held dueling events for their respective candidates in the Republican primary for governor: David Perdue, a former senator and Dollar General executive who entered the race at Trump's insistence, and Brian Kemp, the incumbent.
Pence attended a rally for Kemp at the Cobb County airport in suburban Atlanta, while Trump appeared remotely for Perdue, who took a racist swipe at Stacey Abrams, the presumptive Democratic nominee, during a news conference at a wings-and-beer restaurant north of the city. As Jonathan Martin writes, Pence and Trump are circling each other warily in advance of a possible clash in the presidential primary in 2024, so their standoff in Georgia has national implications.
It's not looking good for Trump's leading candidate in the state, for the reasons our colleagues Reid Epstein and Shane Goldmacher reported this weekend. Polls show Kemp ahead by an average of 25 percentage points, leading Perdue to try to reset expectations last week. "We may not win Tuesday," he said, "but I guaran-damn-tee you we are not down 30 points."
Along with Representative Jody Hice, who is hoping to unseat Secretary of State Brad Raffensperger, Perdue is running a campaign that is almost single-mindedly focused on Trump's baseless claim that the 2020 presidential election was stolen.
Understand the Georgia Primary Election
The May 24 primary will feature several Trump-backed candidates in closely watched races.
A New Battleground: Republicans have fought bitter primaries in Georgia. But just two years after Democrats flipped the state, it's trending back to the G.O.P.
G.O.P. Governor's Race: David Perdue's impending loss to Brian Kemp looms as the biggest electoral setback for Donald Trump since his own 2020 defeat.
Trump vs. Pence: With the ex-president backing Mr. Perdue and his former vice president supporting Mr. Kemp, the G.O.P. governor's race has national implications for 2024.
Fighting Headwinds: Democrats in Georgia — and beyond  — are worried that even the strongest candidates can't outrun President Biden's low approval ratings.
Perdue and Hice are speaking to a "small and shrinking crowd in Georgia," said Chris Clark, the president and chief executive of the Georgia Chamber of Commerce, which is backing Kemp and Raffensperger.
"Nobody asks about it at events," Clark added, referring to the 2020 election. "They're asking about jobs and inflation."
Democrats look ahead to a difficult autumn
The Rev. Raphael Warnock, the preacher turned senator, and Stacey Abrams, the former state lawmaker and voting rights champion, ran unopposed in their primaries for Senate and governor this year. That doesn't mean they'll have an easy time of it in the fall, with a base that leading Democrats are describing openly as "quite demoralized."
Abrams is one of those Democrats, like Beto O'Rourke in Texas or Amy McGrath in Kentucky, whose national stardom and appeal among activists sometimes outstrip their local support. Polls show her behind Kemp by about five points in head-to-head matchups.
"When you lift someone up that high, people love to see you fall," said Martha Zoller, a former aide to Perdue who now hosts a talk radio show in Gainesville, Ga.
Abrams's campaign released a memo on Sunday outlining what it described as her strengths heading into November. It makes three basic points:
Democratic turnout is holding up. The Abrams team says that "Democrats are on track to break records" in Tuesday's primary, a fact that has Republicans arguing that Georgia's new voting law has not suppressed voting.

As Nick Corasaniti and Maya King reported on Monday morning, however, "It is too soon to draw any sweeping conclusions, because the true impact of the voting law cannot be drawn from topline early voting data alone." We'll know more after tomorrow.

So-called crossover voters will go for Democrats in November. Abrams aides say they have identified "nearly 35,000 voters who we expect to vote for the Democratic ticket in November but who cast Republican ballots for the primary," a group they are calling "crossover voters." Of the 855,000 Georgia voters who had cast their ballots as of Friday, when early voting closed, the Abrams campaign estimates that more than half — 52.9 percent — were Republicans, while only 46.5 percent were Democrats. (Georgia does not register voters by political party.)

The Abrams team spins this as "a remarkably close margin," given all the attention the news media has paid to Georgia's big G.O.P. primaries, which are more competitive than the major Democratic ones. But it also could be an ominous sign for Democrats that Republican voters are more energized heading into the fall.

Georgia is growing more diverse, and that will help Democrats. The speed of voter registration has slowed in Georgia, which was once a model for the ability of grass-roots organizing to overcome entrenched obstacles to voting. That slowdown could hurt Democrats in the fall, although the Abrams campaign says it has identified about 42,000 Georgians who have already voted in this year's primary but did not vote in the 2018 general election. Her team also says it has found more than 100,000 Black voters who skipped the 2018 primary but have already voted this year, as well as 40,000 additional white voters and an unspecified number of new Asian American and Latino voters. Abrams lost her first race for governor against Kemp by just under 55,000 votes, so those new voters could be significant.

It's not a safe assumption that voters of color will choose Democrats at the same rates they have in the past, however. Biden has lost support among Black and Latino Americans since taking office. As of April, the president's approval rating was just 67 percent among Black adults, down 20 percentage points since the start of his term. Not only is turnout a question mark, but it's also by no means clear that Democrats will be able to hang on to all of those voters if inflation continues to bite into their pocketbooks in November.
What to read
President Biden pledged to defend Taiwan against attack, moving a step beyond longstanding U.S. policy of "strategic ambiguity." Zolan Kanno-Youngs and Peter Baker report from Tokyo and Seoul.

Representative Mo Brooks, a hard-right Republican candidate for Senate in Alabama, seems to be making an unlikely comeback after his low poll numbers prompted Donald Trump to take back his endorsement, Trip Gabriel reports.

In Texas, the closely watched House race between Representative Henry Cuellar and his progressive challenger, Jessica Cisneros, encapsulates the tensions within the Democratic Party on immigration, Jazmine Ulloa and Jennifer Medina report.
how they run
Paxton's legal troubles haven't amounted to political ones
Ken Paxton, the Texas attorney general, has faced his share of legal concerns in recent years, something that George P. Bush, his rival in the primary this year and the state's land commissioner, has seized upon as he seeks to oust him from office.
But, if history is any indicator, Bush has his work cut out for him.
In March, Paxton topped the primary field with 43 percent of the votes, short of the 50 percent required to win the nomination outright. Bush placed second with 23 percent, and their runoff election is on Tuesday.
Understand the 2022 Midterm Elections
---
Card 1 of 6
Why are these midterms so important? This year's races could tip the balance of power in Congress to Republicans, hobbling President Biden's agenda for the second half of his term. They will also test former President Donald J. Trump's role as a G.O.P. kingmaker. Here's what to know:
Paxton has labeled Bush, a nephew of former President George W. Bush, the "liberal land commissioner," accusing him of supporting the teaching of critical race theory in schools. Bush, meanwhile, has been airing ads calling attention to Paxton's legal troubles. Paxton was indicted on charges of securities fraud in 2015, which remain pending, and the F.B.I. is investigating accusations of abuse of office and bribery. Paxton has denied any wrongdoing, and his office did not respond to a request for comment on Monday.
In interviews, Bush has said that the major difference between him and Paxton is that he's "not out on criminal bond."
Paxton "has routinely led the attorney general's office into scandal after scandal," said Karina Erickson, a spokeswoman for the Bush campaign.
Bush's campaign is also warning that those legal issues could prevent Paxton from appearing on the ballot, which would give Democrats a victory. But the secretary of state's office pointed to a statute in the state's election code that complicates that theory: Paxton would have to be "finally convicted" of a felony — meaning he would have to be convicted of a crime and have completed the appeals process — in order to be ineligible to run for office.
Since Paxton hasn't stood trial yet in the securities-fraud case, and hasn't been charged by the F.B.I., it is highly unlikely he will be removed from the ballot this year, said Joshua Blank, research director of the Texas Politics Project at the University of Texas. It would take a lot for Paxton to lose the runoff, Blank said, let alone become the "type of serious vulnerability" that Republicans would worry about in the general election. He was re-elected in 2018, after the indictment.
"Most voters," Blank said, "have shown a consistent disregard for his legal problems."
— Blake & Leah