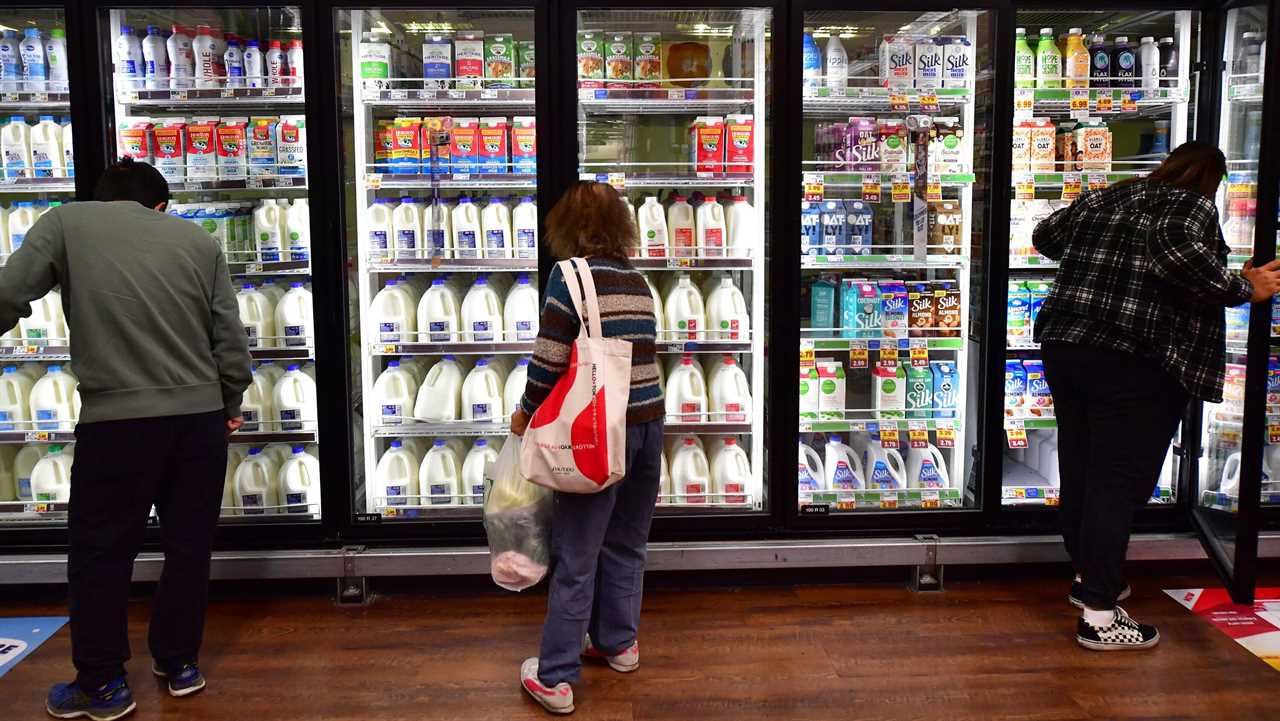 Shifting gears
Those looking for signs that the U.S. economy is slowing had plenty to gawk at yesterday. G.D.P. shrank in the first quarter, for the first time since the early days of the coronavirus pandemic. Amazon said its revenue rose at the slowest pace since the dot-com bust. Apple said its supply chain woes were only getting worse. The S&P 500 index is on track to post its third monthly decline in four months.
The conventional wisdom has been that the reopening from the pandemic, along with the money that Washington has poured into consumers' pockets, would keep the economy chugging along well into 2022. For the past few months the fear, at least from the Fed, has been that the economy is too hot. But is the U.S. economic engine about to shift into a lower gear?
Corporate profits continue to ramp up. Despite a few high-profile misses, earnings have generally beaten expectations. According to FactSet, profits for the S&P 500 are likely to have risen by an average of nearly 7 percent in the first quarter of 2022 from the same period a year ago. Not bad for the second year of an economic recovery. But can companies keep it up as labor shortages push up wages, and the war in Ukraine and coronavirus lockdowns in China increase the costs of raw materials?
Companies say they can continue to raise prices. For now, many are insulating themselves from the effects of those higher costs by increasing prices. This week, PepsiCo reported a big jump in revenue in the first quarter, in large part because it raised prices by as much as 12 percent for Lay's, Doritos and other snacks in the past year. Executives hinted that they may continue to charge more for products. But with gas prices at their highest levels in years, and government stimulus money no longer flowing, many economists think U.S. consumers may soon be tapped out.
The stock market is set to record its worst month in two years, reflecting growing worries. After a rally yesterday, the S&P 500 is falling again in premarket trading, in large part because of Amazon's worse-than-expected results and Apple's poor outlook. "Despite increased cost pressure, analysts continue to expect S&P net margins to reach new highs," Savita Subramanian, Bank of America's top stock strategist, wrote in a note to clients this week. "We see downside risks to the consensus."
HERE'S WHAT'S HAPPENING
Exxon and Chevron report huge jumps in first-quarter profits. Thanks to rising energy prices, profit at Exxon doubled, to $5.5 billion, and it would have been bigger if not for a $3.4 billion hit from quitting a Russian operation. Chevron, which has less exposure to Russia than rival oil giants, saw its profit nearly quadruple, to $6.3 billion.
President Biden seeks $33 billion in additional aid for Ukraine, anticipating prolonged conflict. "The cost of this fight is not cheap," Biden said, "but caving to aggression is going to be more costly if we allow it to happen." He added that his administration was also seeking new ways to punish Russian oligarchs.
From Opinion: Elon Musk's Twitter
Commentary by Times Opinion writers and columnists on the billionaire's $44 billion deal to buy Twitter.
Farhad Manjoo: Many worry that Twitter might get worse under Musk. But there's also room for it to become much better.
Kara Swisher: What to expect from Elon Musk's Twitter? Weed jokes, editable tweets and the return of Donald Trump.
Anand Giridharadas: Musk has embraced a flawed understanding of the free speech issue. That makes the deal particularly dangerous.
Ezra Klein: Twitter is built to gamify conversation, and Musk knows it. Could this push him to right-size the platform's influence?
Pamela Paul: The impending cloud of "Elon Muskiness" hanging over Twitter is sure to set off a wave of farewells to the platform.
China sets an economic stimulus plan to offset Covid lockdowns. The aid measures include providing money for students and allowing employers to stop paying unemployment insurance to the government if they promise to keep workers on the job.
Johnson & Johnson shareholders reject a proposal to end global talc sales. The resolution, fueled by concerns including the product's potential links to cancer, failed to win a majority of investor votes.
Goldman Sachs experiments with Bitcoin-backed loans. The bank said it had allowed a customer to borrow money using cryptocurrency as collateral. Meanwhile, the Labor Department criticized a plan by Fidelity to let people add Bitcoin to their retirement accounts.
Twitter's moderators fear the worst
Elon Musk is amassing the funds he needs to buy Twitter, selling $4 billion in Tesla stock this week, according to a filing released last night. He said there were no further sales planned, which may come as a relief to Tesla shareholders, as the electric carmaker's shares have fallen 20 percent since he first revealed that he had bought a 9 percent stake in Twitter. (Relatedly, the way he disclosed that stake has reportedly attracted scrutiny from the F.T.C., The Information reports.)
At Twitter, frustration is mounting over Musk's moderation plans, The Times's Kate Conger reports. Employees who work in content moderation are uneasy about Musk's position as a "free speech absolutist." They said they worried that Musk understands little about the reasoning behind Twitter's current rules, and that his moderation plans would return the company to its early years — and troubles. The Times saw a list of questions that Twitter employees compiled and hoped to ask Musk:
"You have said that you want more 'free speech' and less moderation on Twitter," one said. "What will this mean in practice?"

"Some people interpret your arguments in defense of free speech as a desire to open the door back up for harassment. Is that true? And if not, do you have ideas for how to both increase free speech and keep the door closed on harassment?" another asked.

Some employees questioned whether Musk would halt their work during a critical moment, when they are set to begin moderating tweets about elections.
Musk's free speech plans have advertisers worried, too. Twitter has been reassuring brands concerned with the change in ownership that their ads would not be placed alongside harmful content, The Financial Times reports. Jonathan Greenblatt, the C.E.O. of the Anti-Defamation League, who helped set up an ad boycott against Facebook in 2020, said on Twitter that "extremists" were celebrating Musk's plans for Twitter and that they believed he would let them return to the platform. "This is dangerous," he wrote.
For now, though, the moderators are still moderating. Roger Stone, long a close ally of Donald Trump, tried to return to Twitter yesterday morning after being permanently banned in 2017. He was banned again within hours of creating a new account, The Daily Beast reported.
Further reading:
Tesla's lucrative business in China could be at risk if Twitter upsets the Chinese authorities.

Pre-deal, Musk told bankers that he would cut jobs at Twitter and mentioned monetization ideas, Bloomberg and Reuters report.

When Musk opens the Twitter app, he doesn't see what everyone else sees.

From Times Opinion: "Elon Musk Is the Problematic Fiancé Twitter Deserves"
---
"There's very little separation now between where you work and where you live. We're seeing the same trend happening in clothing."
How Elon Musk Bought Twitter
---
Card 1 of 6
A blockbuster deal. Elon Musk, the world's wealthiest man, capped what seemed an improbable attempt by the famously mercurial billionaire to buy Twitter for roughly $44 billion. Here's how the deal unfolded:
---
A loophole in laws on pay transparency
Yesterday, the New York City Council voted to delay a pay transparency law that was supposed to go into effect next month. The new law, which is now expected to go into force in November, requires employers to include the minimum and maximum salary for any open position where the work will be done in the city, whether it is remote or in person, salaried or hourly.
New Yorkers could look to Colorado to get a sense of what might happen. Colorado has had a pay transparency law since January 2021, and some national employers have tried to avoid compliance by excluding Colorado residents. Last year, 9NEWS in Denver found a number of job postings with language similar to this one from Nike: "Open to remote work, except in Colorado." The Wall Street Journal highlighted more examples.
There are several reasons employers might prefer to avoid disclosing salary information, such as not wanting their competitors to know how much they pay. But a more insidious reason might be that they would first have to close the gender and racial pay gaps for current workers, said Jim DeSimone, an employment lawyer and civil rights advocate in Los Angeles.
It is unclear whether excluding job seekers from certain states is illegal, DeSimone told DealBook, because the laws are new and haven't been tested in the courts. The language in the Colorado postings "doesn't seem to be discriminatory per se on the basis of a protected class, such as gender, but it could have an impact," he said.
"If you can show that the motivation of these companies in not wanting to hire particular employees from particular states is because they know internally they did discriminate," DeSimone said, "then that's something that can also be looked at" by, for example, federal regulators.
Even job postings with wide salary ranges can help candidates in groups that have historically been underpaid, said Joe Holt, a professor at the Mendoza College of Business at the University of Notre Dame.
"What the research indicates is that women negotiate for salaries as effectively as men when they have a clear understanding of what they can expect to be paid," Holt said. "But men negotiate higher pay than women when that information is not readily available."
THE SPEED READ
Deals
KKR is taking Hitachi Transport private as part of a $5 billion deal. (FT)

The private equity firm Leonard Green & Partners is reportedly nearing an $18.3 billion close across two funds. (Bloomberg)

G/O Media, the owner of Gizmodo and Deadspin, has acquired the business news site Quartz. (NYT)
Russia-Ukraine war
Ukraine's president said Russia sent five missiles into Kyiv shortly after his talks with the U.N. secretary general ended there. (NYT)

Qatar is an unexpected beneficiary of the war in Ukraine. (Bloomberg)

For sale: Renault's stake in the Russian automaker AvtoVAZ. Price: one ruble. (WSJ)
Policy
California is investigating Exxon Mobil and other oil companies for apparently overstating how much recycling can reduce plastic trash. (WSJ)

Frances Haugen: "Europe Is Making Social Media Better Without Curtailing Free Speech. The U.S. Should, Too." (Times Opinion)

More than 20 academics urged the S.E.C. to withdraw a climate rule proposal, saying the agency was exceeding its authority. (SEC.gov)

The F.D.A. announced a plan to ban sales of menthol-flavored cigarettes. (NYT)
Best of the rest
Airbnb is scrapping a full return to the office, allowing its employees to permanently work remotely. (NYT)

A miscalculation led Twitter to overstate its audience figures for about three years. (FT)

The pandemic upended the rigid 9-to-5 workday. Enter the age of the "triple peak" day. (NYT)
We'd like your feedback! Please email thoughts and suggestions to [email protected].